Christmas wishlist donations
Make this festive season extra special for our feline friends by donating through our Wishlist Donation Appeal. Your donation will help us to give cats and kittens in need the very best care until they find a loving, responsible home.
You can make this donation in the name of a loved one and we will notify them that you donated in their honour by sending a beautiful Christmas eCard.
Choose how much you want to give and who to notify. You will have the chance to write a personal message.
BFFs (Best Feline Friends)
$15 will give a kitty a pack of soft toys to share with their friends
Pawty Time
$20 will gift a boisterous kitten a premium teaser toy to chase and catch.
Keep Calm and Purr On
$35 will gift a fortnight's supply of Zylkene, a supplement that keeps cats calm.
Moggie in a Manger
$55 will gift a comforting igloo bed to a shy cat so they can have some "me time".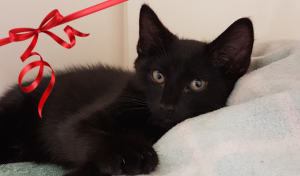 All I Want for Catmas
$95 will gift a Feliway room diffuser for our kitten area, so the little ones feel safe when meeting their new family.