Axel's Adventures
Thursday, 02 August 2018 at 3:58
Hello my Cat Protection Society friends,
It's Axel here. I thought I should write to update you on all the goings on since I moved out of Cat Protection Society Newtown and took over the Wilsons' home in Camperdown.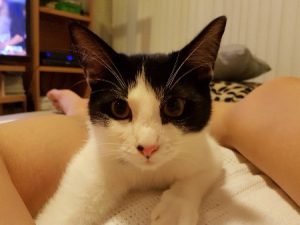 Life is pretty good here. My servants, Poh and Mark, work hard to satisfy all my needs. Although I'm still trying to coach them on providing a more frequent meal service each day, they do try.  They dutifully entertain me day and night and now seem to fully appreciate my unquestioned authority in this household.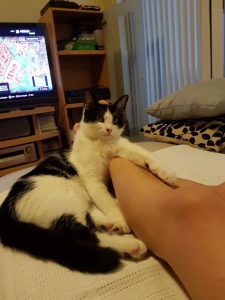 With further training, they will also come to accept that their laps are exclusively my property to access whenever I choose on a 24/7 basis.  As the following pictures show, they are making fairly good progress with their lap training so far.
Although, as the last photo above illustrates, we still have some way to go with their training (sigh).
I have procured a number of toys and games for my leisure time since I've been here, although some games are so simple I can play them on my head!
I've spoken to my staff about procuring some more demanding equipment to suit my discerning tastes. I am a little surprised they did not appreciate my aptitude for such challenges from the very first day I arrived, when I freed myself through the bathroom door, not once but twice.  As if a simple inward opening door for humans was going to contain me, please!
In my time here, I have developed a strong interest in media, particularly television.  I can't tell you how much I enjoyed the action of the summer of tennis this year – mind you following that ball for hours on end can give one a sore neck!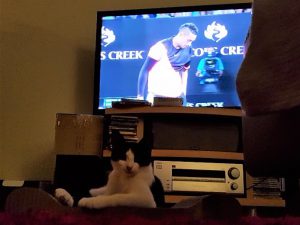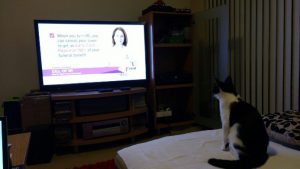 I don't even mind those life insurance ads everyone else seems to loathe.  They've actually given me some great ideas to make some quick cash out of Mark and Poh, but that will be a story for another time.
I'm studying theatre acting now too, plus coaching Mark through line runs and rehearsals.  Just quietly, I think we both know who's the better actor!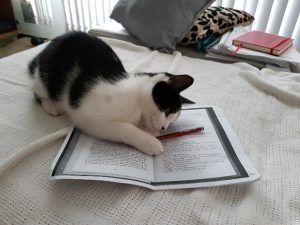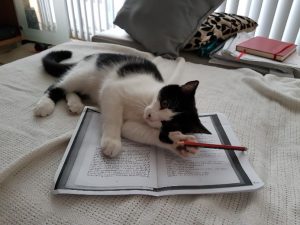 In terms of other projects keeping me busy, I've recently started some research specifically to understand how fish come to find themselves inside iPads (it's hard to fathom those simple creatures) and I am seriously contemplating a modelling career… I mean, just look at me in these little beauties…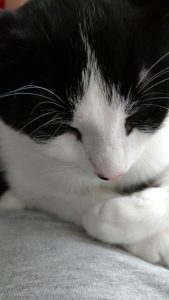 My mastery of yoga and contortion is well renowned in this neighbourhood now too and countless come in search of my wisdom to unlock the secrets of body control and movement.
All of this is on top of my highly classified espionage activities which, clearly, I cannot discuss here!
As you can see, I live quite the busy life.  One can barely find the time to sleep 16 hours a day!
My friends, I miss you all dearly. Thank you so much for giving me a fresh start to life. Needless to say, things could have turned out very differently for me and my brother had you all not been there to show us some love.
I cannot thank you enough.
Love and hugs,
Axel